Been playing with ports/drives/SSDs in MacMinis recently and I thought I would attempt something that I hadn't seen anyone else try.
Replace the Mini-PCIe Airport card in an Intel MacMini with an SSD. The idea being that this would become the boot device to the 2 mirrored drives internally.
So I picked up this item off eBay:Â SuperTalent 32 GB,Internal (FEM32GFDL) (SSD) Solid State Drive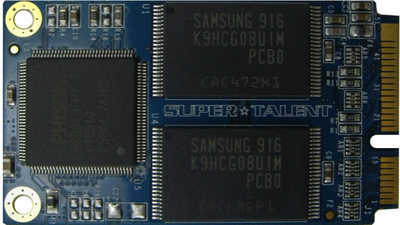 These are primarily meant for a Dell Mini 9, but I hoped the Mac would see it as a regular drive. This MacMini is running 10.6.8 Server.
Tore MacMini open, installed card, put everything back together and booted the system.
Unfortunately the drive was not recognized.
It didn't show up in Disk Utility. I did look through the device tree with IORegistryExplorer and found what looked like an entry for the card, but apparently there aren't any drivers for this type of device (essentially a PATA bus/drive presented via the PCIe interface).
Next 2 stops down the road of MacMini Mania are the hack of connecting one of the internal SATA ports out through the case to an eSATA device. (Drobo S likely) and trying the Mini PCIe card that adds 2 SATA ports (same external eSATA connection)